Traxxas Rustler RTR
De Traxxas Rustler is één van de meest verkochte modellen van het Amerikaanse merk Traxxas en is verkrijgbaar als zowel electro als nitro model. Een bewezen favoriet voor ruige ritjes; dit tweewiel aangedreven model kan absoluut tegen een stootje!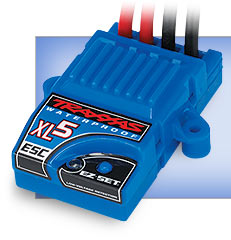 Specificaties:
-4-amp DC Peak Detecting Fast Charger
-Traxxas 3000mAh, 8.4v, 7-cell NiMH battery with iD™
-TQ 2.4GHz Radio System
-Waterproof Electronics For All-Weather Driving Excitement In Water, Mud And Snow!
-35+mph* Top Speed!
-Titan® 12-Turn 550 Modified Motor
-XL-5 Waterproof Electronic Speed Control
-Number-1 Selling 1/10 Stadium Racer
-Equipped with patented Traxxas' High-Current Connector