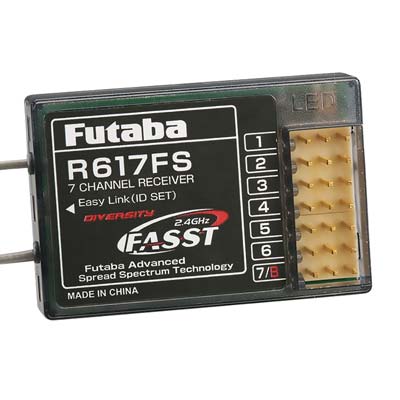 R-617 FS 2.4 GHz receiver
Ultra-compact, lightweight seven-channel FASST 2.4 GHz receiver with full range.
The twin-aerial Diversity system constantly checks the signal level of both aerial inputs, and instantly switches to the stronger signal, with no interruption.

"Pre-Vision": FASST receivers constantly scan the input signal, while special software technology automatically corrects any data errors which occur.
Easy Link - simple "binding"
The transmitter sends an identification code with more than 130 million possible combinations; this is stored in the receiver. The receiver only accepts signals from this one transmitter, regardless of other transmitters which log onto the 2.4 GHz band.
Optimised for use in model helicopters with the CCPM (HR3) swashplate linkage.


Specification
Frequenzkanäle: 36
Antennenlänge: 13
Kanalzahl: 7
Gewicht ca.: 9
Kanalraster: 2048