Nine Eagles Galaxy Visitor 6 Pro
Nine Eagles Galaxy Visitor 6 Pro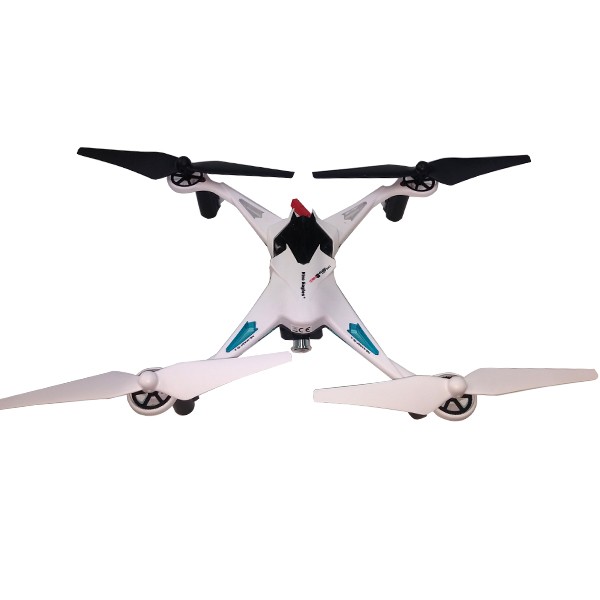 The GALAXY VISITOR 6 PRO is a 2.4GHz Quadrocopter of the latest generation.
Through the sophisticated 3-axis gyro stabilization system it is characterized with a very accurate and simple control feeling is possible. Due to its simple control and its high intrinsic stability the GALAXY VISITOR 6 PRO is a particularly good choice for beginners. The maneuverability of this Quadrocopter is adjustable and thus ensures that while flying the GALAXY VISITOR 6 PRO also advanced pilots will not be bored. Also for outdoor use in light wind, the model is readily suitable. An additional feature of the GALAXY VISITOR 6 PRO is a height sensor. Thus, the last altitude is kept by the model automatically when the pilot lets go of the throttle stick.
The GALAXY VISITOR PRO 6 has an automatic button-based start function which will launch the model automatically and keeps stable at a cruising altitude of ~ 1em meters.
An automatic landing function by pressing a button is also part of the equipment of the model.
The GALAXY VISITOR 6 PRO combines many advantages such as small size, low weight and high security in one model. The model furthermore has an HD WiFi camera. With the free app for your smartphone (iOS and Android), you thus have the opportunity to delve into the world of FPV.
Furthermore, it is also possible to control the GALAXY VISITOR 6 PRO directly with your smartphone. For this purpose, only a smartphone instead of the transmitter must be coupled with the GALAXY VISITOR PRO 6. The display will automatically show all control elements necessary for flight operations.
The model is not compatible with Futaba Transmitters (no FTR).
Key features
• 1280 x 720p HD WiFi Camera Range about 80 meters
• Direct image transfer the camera image (FPV) on smartphones (iOS and Android)
• Free App for iOS and Android devices.
• Photo and video function via transmitter or APP
• Control of the model on APP (reach 80 meters)
• Automatic TAKEOFF
• Automatic altitude hold function (Altitude Control)
• Motor-emergency
• Automatic shutdown of engines and blocking the blades when obstacles occur during flight
Technical specifications:
Main rotor diameter: 160mm
Length: approximately 199 mm
Width diagonal: 270 mm
Height: about 50 mm
Flight Battery: 3.7V 700mAh 35C Lipo
Flight Weight: approx 122 g